W4UC.ORG
The Website Of The Five Flags Amateur Radio Association
Is Currently Closed and Under Construction
It is with great sadness I report that tonight's ARES Net is now a Silent Key Announcement. Jim Anderson, W4CUJ. became a Silent Key last night. Gene will run tonight's ARES Net from Jim's QTH. Please Check In tonight during the ARES / AREC Net. 7:30pm. 146.760 Repeater.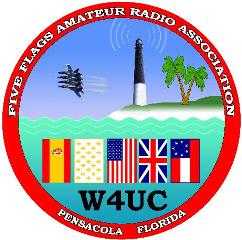 The Five Flags Amateur Radio Association meets on the 1st Thurs of each month at the Golden Corral Restaurant on Langley Blvd - Dinner starts an 6pm Meeting Starts at 7pm

CLICK HERE FOR DIRECTIONS
ARES MEMBERSHIP FORM For questions concerning Membership and Club Activities
Please Contact Club President
Skip Bollens - N4XXO

For Questions or Information about this Website
Please Contact the Webmaster
WEBMASTER




3SEPT2017